OrthoBanc Deposits and Your Revenue Cycle
A Few Thoughts from our CFO, Shanna Rollins
OrthoBanc offers 4 draft dates – 5, 12, 19, and 26.  These dates are used for the scheduled, recurring drafts. The deposits for each of these drafts will always occur 3-4 banking days after the draft.  (4 days becomes necessary when there is a bank holiday.)  We also have an extra deposit that happens around the 5th – 7th of each month.  We added this deposit date as we began receiving more and more online payments. Online payments can happen any day of the month.  We felt that the time between the deposit for the 26th draft and the extra draft (both 3-4 business days after these drafts) was too long to wait if a responsible party had made a deposit soon after the 26th, so we added this extra deposit date.  This deposit will include any payments that are made between the 26th of the month and around the 2nd of the following month. We provide a deposit schedule that will give you the exact deposit dates for each month throughout the year.  This schedule is available on our website under "Resources."
We are now processing some payments any day of the month, not just the 4 original draft dates.  The any-day drafts are currently reserved for redrafting failed payments and online payments – but we have also begun to allow an "any day" payment when a responsible party calls in and needs to reschedule an existing payment date.  Our future plans are to offer any-day drafts for the recurring draft dates as well. Once we do this, we plan to deposit these payments 3-4 banking days after the draft. This will mean you could be receiving a deposit every day – but they will all still be 3-4 banking days behind the draft.  We will provide more information as those any-day drafts and deposits become available.
Each practice has their own system for processing OrthoBanc deposits. Ask yourself these questions – how do we recognize revenue? Do we set up a receivable and recognize the revenue immediately on contract date, or do we recognize revenue when the payments are made?  Below is a summary of how I would account for both methods.
Setting up receivable when the contract is signed:
When the contract is signed, the total amount due is set up as a receivable and treatment revenue is recognized.  When a payment is received, the receivable is reduced and cash is increased.  If the OrthoBanc deposit is delayed into the next month, it has no impact on the financial reports because the receivable is already set up and the revenue has been fully recognized.
Recognizing the revenue when payment is made:
When the contract is signed, no revenue is recognized and a receivable is not set up.  As the payment is made, the cash account is increased, and the revenue is recognized.  In this case, a delay of the deposit into the following month would cause revenue to be recognized in the wrong period since revenue should be recognized in the period earned. Therefore, you would need to set up a receivable in the month of payment for the total amount of payments expected to be received in the following month (26th draft date deposit) and recognize the revenue. For example, last year the 11/26/19 payments were deposited into the orthodontist's account on 12/1/19.  The orthodontist's office would need to recognize the total amount of the 11/26/19 payments, or 12/1/19 deposit amount, as a debit to a receivable account and a credit to their revenue.  On 12/1/19, when the cash is deposited into the Orthodontist's account, they will credit the receivable and debit their cash account.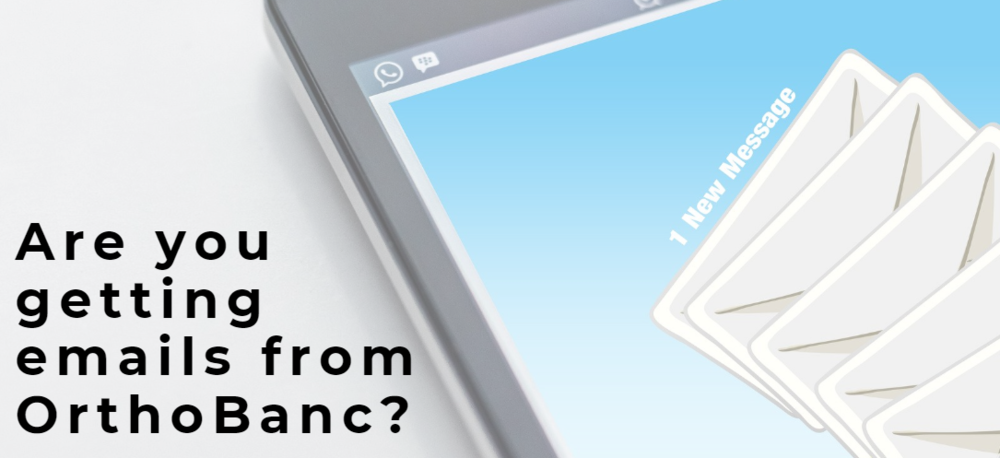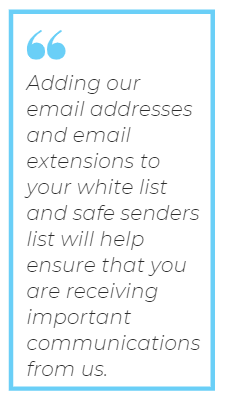 We work hard to keep you informed of what's happening at OrthoBanc, offers available to you, and topics that may affect you and your business. We are often finding though, that our emails aren't making it through to you. We know that can be frustrating.
So what to do? Below is a list of email addresses that we commonly use to reach out to you and your practice. It's important to add these email addresses to your "Safe Senders" list. The steps to do this vary based on the internet browser you are using. We recommend that you search the internet or your browser's help section for, "How to add email addresses to my safe senders list" for assistance.
Please add these emails to your "Safe Senders" list: [email protected]; [email protected]; [email protected]; [email protected]; and [email protected]. If you are using DentalBanc or PaymentBanc, simply change the email extension from orthobanc.com to dentalbanc.com or paymentbanc.com.
It's also good practice to have your office's System Administrator ensure that emails from our domains are whitelisted, or approved to come through to you: @orthobanc.com, @dentalbanc.com, and @paymentbanc.com.